News/Events
Strategic partnership will strengthen understanding of nutrition and cancer
Leading charity World Cancer Research Fund and the NIHR Cancer and Nutrition Collaboration have announced a strategic partnership focused on delivering consistent, credible information and training about the links between cancer and diet to a greater number of people – including health professionals, patients and those looking to reduce their risk of cancer. 
Cancer is a leading cause of death in the UK, with 1 in 2 people developing cancer in their lifetime. Dietary factors play an important role in the prevention, development, treatment and survival of cancer. However, currently there is a gap in the provision of cancer-related nutritional information for those who need it most.
Lesley Turner, NIHR patient advocate said: "As a cancer patient with a particular interest in nutrition and physical activity I am excited to hear about this new partnership. Patients and the public have been asking for consistent, evidence-based advice to help them make informed choices about their diets for years, and this collaboration has the potential to disseminate the latest evidence to those people who can benefit the most and are at the heart of the work carried out by both organisations."
Rachael Gormley, Chief Executive, World Cancer Research Fund said: "Eight in ten people diagnosed with cancer tell us they haven't received any dietary support. By partnering with the NIHR Cancer and Nutrition Collaboration, our goal is to reach many more people with our evidence-based advice, information, training workshops and e-learning programmes, and start to fill this gap. We are delighted to be working with such a highly credible group of scientists, health professionals and patient representatives to help us to achieve this."
Professor Emeritus Sam H Ahmedzai, Chair of the NIHR Cancer and Nutrition Collaboration, said: "In recent years, thanks to World Cancer Research Fund, we have gained so much understanding of how better nutrition, improvements in lifestyle and increasing levels of physical activity can help to prevent cancer development. The NIHR Collaboration wants to extend this evidence base to supporting patients and their families who are living with and beyond cancer. This new partnership will extend our network of healthcare professionals and researchers to tackle the current gaps in our knowledge and improve clinical practice."
This new partnership will build on the strengths of both organisations: World Cancer Research Fund has more than 30 years of expertise analysing the relationship between cancer and diet, nutrition and physical activity. This has informed its globally recognised Cancer Prevention Recommendations. 
The NIHR Cancer and Nutrition Collaboration, established seven years ago, is the only UK-based research network dedicated to broadening scientific knowledge of the links between nutrition and improved outcomes for people with cancer.
World Cancer Research Fund will initially provide the NIHR Cancer and Nutrition Collaboration with funding for two years. By joining forces, the two organisations can better support the expansion of ongoing programmes of research into cancer and nutrition, as well as ensure targeted health messages and training reach those who need it the most – including those in specialist oncology care, nutritionists, cancer patients and the general public.
The two partner organisations will be running a joint session at the upcoming NCRI Festival entitled: 'Cooking for people living with and beyond cancer: experts and patients discussing taste, nutrition and science'. During the session, which takes place from 3:30pm-4:30pm on 9 November, attendees will be able to watch a cookery demo with recipes created specifically for people undergoing cancer treatment, as well as pose questions to an expert panel made up of patients, researchers and health professionals. 
About World Cancer Research Fund 
World Cancer Research Fund is the UK's only charity solely dedicated to cancer prevention and survival. Over the last 30 years, World Cancer Research Fund has worked tirelessly to understand the links between a person's weight, diet, and physical activity levels and their cancer risk.
World Cancer Research Fund's Cancer Health Check tool and Cancer Prevention Recommendations help people understand what changes they could make to reduce their risk of getting cancer. Based on the latest scientific research, the advice is practical and simple to understand. See also: the charity's website and Twitter, Facebook, Instagram & LinkedIn.
About NIHR Cancer and Nutrition Collaboration
The mission of the NIHR Cancer and Nutrition Collaboration is to establish a coherent and effective infrastructure to enable the best quality translational research. This will bring nutritional considerations into all aspects of cancer prevention, treatment and care, and establish mechanisms through which every person and health professional can understand how best they can contribute.
The collaboration was initiated in 2014 and co-ordinated by the NIHR Southampton Biomedical Research Centre (BRC). Since 2014 The Collaboration has been facilitated by the NIHR Office for Clinical Research Infrastructure (NOCRI) with World Cancer Research Fund providing time and resources to support the Collaboration.
Why flavour and nutrition is so important for those going through cancer
A significant number of people who go through cancer experience changes to their taste. This can be caused by the type of cancer they have had, but more often, it is caused by specific cancer treatments such as chemotherapy and radiotherapy. Taste changes are one of the more common side-effects of cancer treatment, with some of the common complaints including noticing things smelling different, having a reduced sense of smell, food tasting bland, food tasting the same, or experiencing a metallic taste in the mouth. Food can seem unappealing and many people lose their appetite altogether. Some of these changes can be long lasting.
These can be really difficult side effects that can make eating unenjoyable. Mealtimes can also feel isolating, especially when people around you are enjoying what they are eating!
There are also other nutritional and dietary complications that people with cancer can experience during treatment – cancer treatment can make it more difficult to fully absorb nutrients from food, which can lead to potential deficiencies of certain nutrients.
At such a critical time, it is vital that the cancer patient gets the energy and nutrients their body needs to help support recovery. However, when the enjoyment of food has gone or has been greatly reduced, it can result in people eating less nutrient-rich food as people may be having a more restrictive diet with less balance and variety. Ensuring an adequate intake of energy, protein, vitamins and minerals at this time is vital. We know that food can be a big part of recovery, not just physically but emotionally.
To help combat some of the taste changes that many cancer patients experience, World Cancer Research Fund collaborated with chef Ryan Riley – founder of not-for-profit cookery school, Life Kitchen – to launch Flavour & Nutrition; a free recipe book aimed at people whose sense of taste and smell has been affected through cancer and its treatment. Life Kitchen's aim is to help people experiencing cancer to enjoy food again.
Flavour & Nutrition is the follow up to our first recipe booklet collaboration with Life Kitchen, the 'Ryan Riley recipe booklet'. Flavour & Nutrition features 15 brand new recipes – each one paying special attention to taste and flavour. Focusing on helping people with cancer rediscover and revive their love of food can be a factor that helps to improve their quality of life.
All of the recipes in Flavour & Nutrition have a scientific basis. Professor Barry Smith, the founder of the Centre for Study of the Senses, has advised Life Kitchen since they launched in 2019. Our book explains the science behind Life Kitchen's 'principles of flavour' which are: umami, smell, texture, layering and stimulating the trigeminal nerve. Each recipe in the book has been carefully created to satisfy specific requirements that people undergoing cancer treatment might have – whether it's a cooling dish to ease mouth ulcers or a recipe to tackle nausea.
The variety of recipes allows people to cook dishes that suit their individual tastes. The book also provides nutrition tips so people can adapt the recipe to suit their individual requirements, whether that's adding more energy, more protein, more fibre or more nutrients overall. Alongside this, the nutritional benefits of each recipe are highlighted throughout.
What's more, each of the 15 recipes have been designed to follow World Cancer Research Fund's healthy eating guidelines, making them suitable for everyone.
In a recent survey, 8 in 10 cancer patients told us that they haven't received any dietary support or advice as part of their treatment. Our collaboration with Life Kitchen on this second recipe book helps fill this vital gap. We want to ensure that as many cancer patients as possible rediscover the joy of food, and importantly to provide nutrient-rich dishes.
For more information on World Cancer Research Fund, visit wcrf-uk.org. And for further information on Life Kitchen, visit lifekitchen.co.uk.
The importance of funding research into prehabilitation in cancer
In July 2019, the NIHR Cancer and Nutrition Collaboration, Macmillan and the Royal College of Anaesthetists published a report on the principles and guidance for prehabilitation within the management and support of people with cancer. The report acknowledged that the evidence of effectiveness of prehabilitation interventions was variable in quality, and highlighted the key evidence gaps that future research needs to address as a matter of priority.
Three key areas for research that came out of the review were:
• We need to know more about the effects of poor nutrition, being physically unfit, and stress on cancer treatment and outcomes, and the difference prehabilitation can make, as well as the mechanisms that underlie the response.
• Knowing more about how best to identify those most at risk, and the nature of the interventions themselves, eg: the intensity and effects of dosing, timing, type of cancer, and treatment.
• Investigating effectiveness and implementation; how best to deliver the intervention at each of the three levels of personalised care (universal, targeted or specialised).
The recent NIHR funding call on 'Prehabilitation: Living With and Beyond Cancer', which is accepting applications across the HTA, EME, HS&DR and Public Health Research programmes, is the ideal opportunity for researchers to secure funding for research that addresses these evidence gaps. The NIHR Cancer and Nutrition Collaboration can assist in developing your funding application. Please contact cancer_nutrition@nihr.ac.uk for further information. The deadline for funding application submissions is 30th March 2021. 
Our Deputy Chair, Dr Steve Wootton, has written a blog on the NIHR website about prehabilitation. Read the article here.
Many health care professionals lack awareness of nutritional guidelines for supporting cancer patients, research finds
Many health care professionals lack awareness of nutritional guidelines for supporting cancer patients, the largest national survey of its kind has found.
The survey of 610 health care professionals working with cancer patients found that only 39% were aware of nutritional guidelines and just 20% felt completely confident in providing nutritional advice, despite 94% of respondents stating that they discuss nutrition with their patients.
Nutrition plays an important role in wellbeing, response to therapy and secondary recurrence of cancer, and people living with and beyond cancer often experience nutrition-related issues, which includes the risk of malnutrition.
Diagnosis of cancer can also be an important 'teachable moment' to change undesirable diet-related behaviours, adopt risk-reducing strategies and manage symptoms.
International guidelines recommend that cancer patients receive tailored nutrition advice from trained health care professionals.
However, the UK national survey, produced by the National Institute for Health Research (NIHR) Cancer and Nutrition Collaboration, found that – while health care professionals provide information on nutrition – awareness of guidelines and confidence in providing nutritional advice were variable.
Health care professionals who had received training had a greater awareness of guidelines and were more likely to report complete confidence in providing nutritional advice.
Among those that responded, only 21% of oncology nurses and 15% of doctors had received nutrition training.
First author and Professor of Nutrition at Bournemouth University Jane Murphy said: 'Appropriate nutrition is a key factor to support wellbeing for people living with and beyond cancer, affecting treatment and development of secondary cancers. Thus, it is crucial that people receive robust evidence informed advice from health care professionals.
"Our research showed many professionals provide information but many are not confident and lack an awareness of guidelines. This points to the need for high quality education and training for healthcare professionals that is accessible and flexible."
Professor Emeritus Sam Ahmedzai, chair of the NIHR Cancer & Nutrition Collaboration, said: "The UK has world-class cancer services, but we know supportive care for cancer patients at all stages of their illness could still be improved. This unique research conducted by Professor Murphy and her team shows how much more progress is needed on educating cancer doctors and nurses specifically on providing good nutritional care. The Collaboration continues to develop new research to fill this gap."
Melissa Mogor, Collaboration member and World Cancer Research Fund's (WCRF) Public Health Adviser, said: "We know that diet and nutrition impact not just cancer prevention, but also survival and quality of life for people living with and beyond cancer. These findings highlight how necessary it is that health professionals are able to access training and support in order to provide nutritional advice to cancer patients.
"Providing this support is a key focus of our work at WCRF, and we have been responsive to health professionals' needs by moving our workshops and webinars online in the face of COVID-19."
The research has been published open access in Supportive Care in Cancer and the full research paper is available here
Winter newsletter 
Read our winter newsletter here.
Nutrition and Cancer Care Conference 
The Macmillan Nutrition Innovation in Cancer Project (NiiCproject) team at Nottingham University Hospitals invites you to attend an exciting day of learning on Tuesday 4th February 2020. 
The NiiCproject is a two year service improvement project funded by Macmillan to explore ways to build better nutritional care into cancer services.
The conference has been designed to bring together patients, carers, health professionals and support services i.e. charities to share findings from the work.
Click here for more information and to register. 
Cancer study to ease plight of people at advanced stages of illness
The NIHR Cancer and Nutrition Collaboration is pleased to share that 'MICA: A phase II trial examining MABp1 (anti-IL1) effects on muscle, physical function and quality of life, in lung, pancreatic or ovarian cancer', led by Dr Barry Laird at the University of Edinburgh, has been awarded funding by the MRC. The Collaboration's 'Living With and Beyond Cancer' work stream assisted with the design of the study, and will continue to offer support to Dr Laird and the research team in consideration of the nutritional aspects of the study and their interpretation.
The treatment – called bermekimab – could help with improving outcomes in cancer, including reducing symptoms such as weight loss and decreased mobility.
Researchers have been awarded almost £1 million from the Medical Research Council (MRC), part of UK Research and Innovation, to enable the study, which will begin recruiting patients later this year.
Dr Barry Laird, Senior Lecturer in Palliative Medicine at the University of Edinburgh's MRC Institute of Genetics & Molecular Medicine, is leading the trial. He said: "Using immunotherapy to target the cause of symptoms in cancer is a new approach. If successful, it has the potential to improve quality of life for people with advanced cancer."
President and Chief Executive Officer of XBiotech John Simard welcomed the trial and said the company is eager to provide bermekimab to patients with advanced cancer through supporting this trial. He added: "Bermekimab is able to target a crucial inflammatory process that enables tumours to grow, spread and disrupt normal organ function to cause harm."
Dr Steve Wootton, a nutrition expert at the University of Southampton and Deputy Chair of the NIHR Cancer and Nutrition Collaboration, said the study will allow them to test theories about how cancer leads to severe malnutrition and weight loss in many people. He added that it could open up new hope for patients with advancing cancer, allowing them to lead more active lives with their families.
Chair of the National Cancer Research Institute's Supportive Care Clinical Studies Group Professor Sam H Ahmedzai described the study as a "radical new approach". He said it could improve patients' daily living.
Read the full press release here.
Studies show prehabilitation before cancer treatment enables empowerment, resilience and long-term health
Macmillan Cancer Support, the Royal College of Anaesthetists and the NIHR Cancer and Nutrition Collaboration are pleased to share with you a new report on prehabilitation for people with cancer. This report calls for a greater focus on the provision of nutrition, physical activity and psychological support to help patients get ready for cancer treatment.
An evidence review team took the published evidence over the last 10 years and examined the extent to which the patient's nutritional state influenced their response to treatment, and whether intervening prior to treatment ('prehabilitation') can improve their experience and outcomes. Dr Steve Wootton from the University of Southampton led the Collaboration's participation in the review and together with Dr. Clare Shaw from the Royal Marsden Hospital NHS Trust chaired the nutritional support aspect of the review.
Dr Wootton says: "Being physically, nutritionally and psychologically unfit is associated with increased risks and complications to treatment. The challenge is identifying those at risk and intervening through nutrition, diet and psychological support ahead before, during and after treatment. Reviewing the evidence has helped develop the principles that underlie the guidance offered in this report. It has also allowed us to identify the areas of our understanding that are incomplete. We are committed to working with our partners to generate the evidence that is needed to increase our understanding of the factors that influence the risk, resilience and response to treatment and so play our part in improving the services for people living with and beyond cancer."
Report recommendations:
• interventions targeted at improving physical and/or mental health should start as early as possible and in advance of any cancer treatment (not just the first cancer treatment)
• prehabilitation, as a component of rehabilitation, should underpin the whole cancer pathway and is an approach that should be adopted for all people with cancer
• all cancer treatments should be led through cancer multidisciplinary teams (MDT) which should have representation from those delivering prehabilitation, therefore providing oversight of the prehabilitation needs of the person to ensure prehabilitation is taking place
• all people with cancer should have a co-developed personalised prehabilitation care plan as part of their overall care
• education in nutrition, exercise, psychology and behavioural change, should be integrated throughout the undergraduate and postgraduate training of health and care professionals
• services delivering prehabilitation should be co-designed and produced with patients and carers
• implementation and effectiveness of prehabilitation should be audited as part of a quality assurance and improvement framework delivered and reported according to recognised standards
• the Professional Standards Authority, Chartered Institute for the Management of Sport and Physical Activity and the British Association of Sport and Exercise Sciences should work together to define an approach to achieving accreditation and/or regulation for exercise professionals in prehabilitation.
Research on prehabilitation in cancer is within the remit of the NIHR Cancer and Nutrition Collaboration's 'Living With and Beyond Cancer' work stream. If you wish to know more about our research or the Collaboration, please contact us.
Click here for the full report. 
The full press release is available here.
Action on weight management in cancer – developing an evidence base to support intervention trials
On Saturday 27th April 2019, the NIHR Cancer and Nutrition Collaboration held a satellite meeting to the European Congress on Obesity which set out to explore issues about future research on obesity and cancer occurrence (primary prevention) and recurrence (cancer survivorship) with a focus on intervention trials. It was hosted by The Centre for Research Into Cancer Prevention and Screening (CRIPS), University of Dundee and chaired by Prof Bob Steele (Dundee) and Prof Elio Riboli (Imperial College) aided by Professor Andrew Renehan (University of Manchester).
A full report from the meeting will be available soon.
Key issues that arose from discussions:
Can we realistically consider weight loss trials for primary and or secondary prevention?

How can we best explore causal association and reversibility?

Who should our target population include and exclude?

Can we develop and deliver the 'right' intervention?

What is the optimal timing for intervention and length of duration?

What are the most clinically relevant disease outcomes that can be realistically measured?
The presentations of the speakers are available here:
F Sniehotta L Rehackova part 1
F Sniehotta L Rehackova part 2
4th International Mendelian Randomisation Conference: 17-19th July 2019
Location: School of Chemistry, Cantocks Close, Bristol BS8 1TS
This meeting will focus on the development, application and translation of Mendelian randomization methods to a range of fields.
Click here for more information and to register.
Survey to explore colorectal cancer healthcare professionals' experiences and opinions of lifestyle promotion
Amy Din, from the Macmillan Survivorship Research Group at the University of Southampton, is conducting a survey for healthcare professionals on lifestyle promotion as a part of her PhD. Please complete her survey here and share this link with your colleagues!
https://www.isurvey.soton.ac.uk/30296
Winter newsletter
Click here to read our latest newsletter, circulated on Wednesday 6th February 2019.
Save the date! 'Action on Weight Management and Cancer'
On Saturday 27th April, a satellite meeting for the European Congress on Obesity is taking place in Dundee. The meeting will focus on 'Action on weight management in cancer – developing an evidence base to support intervention trials'. Register now! 
The full programme is available here.
This meeting has been organised by our Population Health work stream and is hosted by The Centre for Research into Prevention and Screening (CRiPS), University of Dundee. It is generously supported by the World Cancer Research Fund, Association of Obesity Scotland Network and Scottish Cancer Prevention Network.
Detecting Cancer Early JLA Priority Setting Partnership
Detecting cancer early is vital because this is when treatment is most likely to be curative. The Detecting Cancer Early Research Priorities Survey is asking cancer patients, their carers, healthcare professionals and the public to suggest new areas that scientists can research to detect cancer early. Our aim is to gather unanswered research questions on detecting cancer early and generate a top 10 set of research priorities.
The survey is available until 28th February 2019. The project is being managed as a Priority Setting Partnership (PSP), by the Cancer Prevention and Early Detection Team at the Manchester Biomedical Research Centre (BRC), in partnership with the James Lind Alliance (JLA).
Find more information about the survey and where to complete it here
https://www.manchesterbrc.nihr.ac.uk/our-research/cancer-ped/detecting-cancer-early-research-priorities-survey/
The UK Top 10 Living With and Beyond Cancer research priorities
Following the rigorous James Lind Alliance process, supported by NCRI, the Top 10 research priorities for Living With and Beyond Cancer were announced at the 2018 NCRI Conference.
The NIHR Cancer and Nutrition Collaboration is delighted to see priority #9: 'What specific lifestyle changes (e.g. diet, exercise and stress reduction) help with recovery from treatment, restore health and improve quality of life?' The Collaboration is working to bring together researchers in this field to develop new research studies in the area and welcomes the recognition of the importance of research into lifestyle in Living With and Beyond Cancer.
Click here to read Prof Sam Ahmedzai's report on the top 10 research priorities. 
Recruitment for a public representative
We are currently recruiting a public representative for the Population Health: Cancer Prevention and Early Detection work stream, which is led by Professor Annie Anderson. The role description and application forms are available below. Applications close on 31st August 2018. Please email your applications to cancer_nutrition@nihr.ac.uk and a.s.anderson@dundee.ac.uk. We look forward to hearing from you!
Public representative role description
Public representative application form
James Lind Alliance Priority Setting Partnership: Malnutrition and Nutritional Screening
The University of Manchester and the James Lind Alliance have partnered to conduct a priority setting exercise on Malnutrition and Nutritional Screening, across all disease states, all environments and in the adult population.
An online survey is available until 30th September. After this, the priorities are narrowed down through one more survey and a workshop, to create the top 10 research priorities, which are often then used by funders for future funding calls.
Further information is available on the website:
The survey is available here:
Chair announcement
On 13th April we learnt that Professor Eccles has been appointed the new Dean of Medicine at the University of Southampton. As a result of this she will not be able to continue the position of Chair of the Cancer and Nutrition NIHR infrastructure collaboration. On behalf of all of the collaboration we thank Professor Eccles for her time and important contributions as Chair. Her guidance and support have been greatly appreciated.
Following internal nominations for the position, we are delighted to announce that Professor Sam H Ahmedzai will be taking up the position with immediate effect. Professor Ahmedzai is Emeritus Professor of Palliative Medicine at the University of Sheffield, the NIHR CRN National Specialty lead for Community-based, Supportive and Palliative Care Research and is also Chair of the Supportive and Palliative Care Clinical Studies Group of NCRI. He has been heavily involved with the Cancer and Nutrition NIHR infrastructure collaboration as lead of the 'Nutritional care in people living with and beyond cancer' work stream.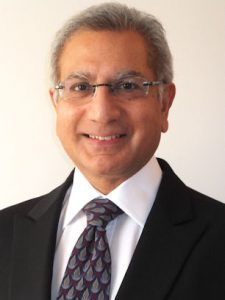 Professor Ahmedzai says: "It is an honour for me to take up this important position in the Cancer & Nutrition NIHR infrastructure collaboration.  In the past two years I have become increasingly excited about working with such a rich group of consumers, healthcare professionals and academics in the collaboration. I aim to steer this amazing talent through its next phase of growth, using my 30 years of experience as a cancer supportive and palliative care clinician researcher, and through my other national research connections."
Spring newsletter
Click here to read our latest newsletter, circulated on 21st June 2018.
Applications for Consumer membership to NCRI Clinical Research Groups now open
NCRI is now recruiting more patient and carer representatives for its Clinical Research Groups. This is a great opportunity for those passionate about the patient experience to have their say in designing and delivering cancer research in the UK. The deadline if Monday 4th June at 10am. Click here for more information. 
WCRF launch Third Expert Report
On Thursday 24th May 2018, WCRF launched its 3rd Expert Report – Diet, Nutrition, Physical Activity and Cancer: a Global Perspective. This report is the result of an ongoing review of evidence by world-renowned, independent experts from across the globe. The report highlights the critical role that overweight and obesity – fuelled by lifestyles featuring little exercise and lots of 'fast' and processed food – play in cancer development. The report was launched at the Royal Society in London, providing the opportunity to share the findings with leading researchers, policymakers and opinion formers.
Professor Martin Wiseman, Medical and Scientific Adviser at WCRF, and Chair of the Cancer and Nutrition NIHR infrastructure collaboration's Secretariat, says:
 "I am delighted that the WCRF 3rd Expert Report has now been published. It provides a wealth of evidence and recommendations on diet, nutrition and physical activity for the prevention of cancer, and for those living with and beyond cancer. It is very timely, given the increasing burden of cancer, and the increasing number of people living with a diagnosis of cancer, and provides the most authoritative resource in this area."
Visit WCRF's website to read the 3rd Expert Report.  
Managing the Health and Well-being of Cancer Carers
by Loughborough University and Bishop Grosseteste University
LOUGHBOROUGH UNIVERSITY
11TH JULY 2018
9.30 – 15.30
This FREE seminar and workshop is designed for carers, health professionals, charities and researchers to come together and discuss current issues related to the health and wellbeing of those caring for someone diagnosed with cancer and to translate our research knowledge into policy and practice. The seminar is delivered by academic experts in psycho-oncology and is funded by the British Psychology Society. Lunch and refreshments included. Free parking available.
If you are interested in attending please register below https://www.eventbrite.com/e/health-and-wellbeing-of-cancer-carers-tickets-45725954561
If you have any questions or would like further information about the event, please contact Dr Fehmidah Munir: f.munir@lboro.ac.uk or call 01509 228228
Expert consultation to accelerate advances in nutritional science
The Wellcome Trust and the World Health Organization (WHO) are holding an expert meeting this autumn to bring together leading scientists and promising early-career researchers to galvanise nutrition science. The meeting will take place 15-17th October. A number of fully-funded places are available for early career researchers. The deadline to apply is 4th June.
Further information about the meeting and applying for funding is available here.
Public Health England 'Cancer Services, Data and Outcomes' conference
The PHE Cancer Services, Data and Outcomes conference is taking place on 20th-21st June 2018. Bursaries are available to support patients and the public to attend, they have just extended the deadline to apply for these to this Friday, 27th April. Information on applying for the bursaries is available here.
Further information is available on the conference here 
Request for help with qualitative research into cancer and nutrition clinical care
Following on from our Clinicians' Survey (which is currently being drafted into a manuscript), Professor Jane Murphy is supervising a student to conduct qualitative research on a project entitled ''Investigating the Perceptions and Awareness of Healthcare Professionals towards Diet and Nutrition Advice for People Living with and Beyond Cancer". 
We are seeking healthcare professionals (dietitians, doctors, nurses and SLTs) to be interviewed over the phone for approximately 30 minutes at a time of your convenience.
NIHR & Charities Consortium for Hospice and Community Research conference
The first national NIHR & Charities Consortium for Hospice and Community Research conference will be held in London on Thursday 19th April 2018. Submission of posters and papers for oral presentation are welcome until Friday 9th March, and registration is open until 28th February. Find out more here.
Winter newsletter
Click here to read our winter newsletter.
Nutrition Society Winter Conference
On 5-6th December 2017, the Nutrition Society held their Winter Meeting on 'Diet, nutrition and the changing face of cancer survivorship'.  The conference brought together a range of experts from the USA, Europe and the UK to present their research findings and discuss the evidence base for cancer and nutrition.
On the second day, the Cancer and Nutrition NIHR infrastructure collaboration delivered a session on our achievements, activities and ambitions, delivered by Professor Alan Jackson, our patient lead Lesley Turner, and leader of the Professionals work stream Professor Jane Murphy. The session was successful in raising awareness of the collaboration, providing an exclusive insight into the Phase II Clinicians' Survey results, and also expressing the crucial role played by patients and the public in collaboration activities.
The conference was split into four parts focusing on: nutrition during diagnosis and treatment; diet for advanced and late stage care; diets and lifestyle factors for life beyond cancer; and the wider public health implications for life beyond cancer. A common theme throughout the conference was the lack of consistent evidence-based advice that can be used by healthcare professionals or patients, the amount of misinformation that is easily accessible, and a common need to know what advice should be given.
It was recognised that nutritional care for those living with and beyond cancer is a problem for all types of health care professionals, each of which have a unique role to play. Researchers were keen to receive guidance on the type and design of nutritional research needed to meet the evidence gap, strengthening the need for a standardised Toolkit for characterising nutritional status in cancer, an ongoing activity within the collaboration's work stream led by Dr Bernard Corfe. For more information about this work stream see our website.
A number of opportunities for further collaboration were identified at the conference, which the group are eager to pursue.
Other members of the collaboration including Professor Elio Riboli, Dr Sorrel Burden, Dr Bernard Corfe and Professor Sam Ahmedzai also be presented at the conference. Sorrel and Bernard are members of the Characterising Nutritional Status in Cancer (the Toolkit) work stream. Sam is the NIHR National Specialty Lead for Cancer: Supportive care and community-based research, as well as leading the collaboration's Living With and Beyond Cancer research sub-group. Find out more about what these groups are up to here.
If you were not able to attend the conference and hear Professor Jackson speak on "Nutritionists' role in the Prevention and Treatment of Cancer and Nutrition", click here to download the slides. We will provide the slides for the collaboration's session as soon as our abstract is published in the Proceedings of the Nutrition Society.
 
British Journal of Nutrition
The British Journal of Nutrition is producing a Special Issue on Nutrition & Cancer. The deadline for original manuscript submissions is 1st May 2018. The Special Issue is scheduled to be published in Spring 2019. If you have any ideas that you wish to collaborate on, please get in touch.
WessFit
Pioneering pre-surgery exercise sessions for cancer patients are set to be piloted at gyms and cancer support centres across the Wessex region in the first project of its kind in the UK.
Southampton colleague Dr Sandy Jack has been awarded £2.3 million in partnership with the Wessex Cancer Alliance, Wessex Cancer Trust and council and community gyms to look at whether or not these exercise programmes along with psychological wellbeing support, can be taken out of hospital and delivered to more patients across the south. Dr Chloe Grimmett, who is a member of our 'Nutritional care in people living with and beyond cancer' research sub-group, is leading on the behavioural science aspect of the study.
Read more about the study here.
The Lancet
The Lancet has published an editorial on a recent report from the US Centers for Disease Control and Prevention, highlighting that cancers associated with overweight and obesity constitute 40% of cancers diagnosed in the USA. This is further evidence that obesity is of concern in the prevention of cancer.  Read the full editorial here.
WCRF blog
Professor Martin Wiseman, Chair of the Secretariat, has written a blog for WCRF on the Cancer and Nutrition NIHR infrastructure collaboration's activities. Click here to read it.
James Lind Alliance Priority Setting Partnership – Living With and Beyond Cancer
A new James Lind Alliance Priority Setting Partnership has been launched on the topic of 'Living with and beyond cancer', supported by the NCRI | National Cancer Research Institute.  
A Priority Setting Partnership brings together patients, carers, and health and social care professionals to work out what are the most important questions for researchers to answer.
Submit the questions that you would like answered through research by filling out NCRI's survey, and help to improve the lives of people affected by cancer: https://www.research.net/r/cancerquestions  
The survey will be open until 15 October 2017.
3rd Cancer Charity Meeting
On September 21st, the collaboration met for the 3rd time with a group of cancer research charities interested in pursuing our the ambition of ensuring that all patients know where to find, and have easy access to, trustworthy nutritional guidance before, during and after treatment for cancer. There were representatives from 11 charities and professional bodies, with a further number that will be involved but were unable to attend on the day.
The meeting was a great opportunity to shape the project and identified some promising funding opportunities. The collaboration thanks NOCRI for supporting the meeting.
Research workshop
On Wednesday 13th September 2017, the Cancer and Nutrition NIHR infrastructure collaboration held a workshop to bring together the three research sub-group members, to provide an opportunity for sharing information about current and future research studies into cancer and nutrition. The overall aim was to start work on producing a comprehensive research strategy and action plan for the next phase of the collaboration's activity. The workshop was successful and there was a great deal of enthusiasm to collaborate on research studies into the links between nutrition and cancer. Click below to read the full report from the workshop.
Summer newsletter
Click here to read our summer 2017 newsletter.
The Nutrition Society Winter Conference 2017: Diet, nutrition and the changing face of cancer survivorship
Scientific Programme Organisers: Professor Ailsa Welch (University of East Anglia) and Dr Bernard Corfe (University of Sheffield – also member of Cancer and Nutrition NIHR infrastructure collaboration and leader of the Toolkit work stream).
Cancer is no longer a terminal diagnosis. Increasing numbers of people are surviving, but with ever more chronic conditions they need good nutritional advice.  However, the scientific evidence to support this is sparse.
This conference, in partnership with the Royal Society of Medicine, will explore the role of nutrition at multiple points in the cancer pathway. Whilst the evidence base for cancer prevention is growing and consolidating there is a growing need to:
understand the role of nutrition in chemotherapy (as well as the impact of therapy on nutrition and appetite)

provide effective strategies for nutritional support of end-stage care

understand the potentially distinct dietary strategies for prevention of cancer recurrence

develop the management of the co-morbidities associated with cancer survivorship
The conference will address the new challenges stemming from the improved prognoses following treatment for cancer.  It will cover the mechanistic, human and public health implications, and is poised to draw together international expertise at a timely point in the evolution of development of cancer management and survivorship strategies.
The conference will be suitable for professionals within academia, researchers in cancer survivorship, clinicians with an interest in patient support, dieticians and related specialties (e.g. nurse specialists) with a role in supporting patients and primary care operatives.
Registration will open soon.  If you would like to be informed first when this information is available, please contact the Nutrition Society.
Call for abstracts deadline:  midnight on 3rd September 2017
Winter newsletter
Click here  to read our winter 2016-17 newsletter.
Second NIHR Cancer and Nutrition Charity Workshop
Following a successful opening workshop in September 2016, seventeen cancer charities, funders and professional associations gathered to talk about the importance of nutrition for cancer patients, the guidance and information about nutrition which is currently available for cancer patients, and how it can be improved.
It was agreed at the workshop that the next step following this discussion is to take action. Several actions were identified during the workshop. To help address the current gaps in guidance available to patients, the collaboration agreed to draft a proposal for delivery of a shared body of authoritative guidance that would include roles and opportunities for charities and other interested organisations to participate. They also asked workshop participants to share information about their current review processes for information and guidance.  Workshop participants agreed to share the themes of the workshop with their respective organisations to help with raising the profile of nutrition research. To help map opportunities that are currently available, participants are also asked to share information about existing funding and resources for nutrition research.
Read the full report of the workshop here:
Can we work together to improve nutrition research for cancer patients? Full workshop report
Joint work stream meeting
A workshop was held on 12th October 2016 to bring together the 'Creating a skilled community of practice' (Professionals) and 'Characterising nutritional status in cancer' (Toolkit) work streams. This was the first opportunity for the two work streams to meet face-to-face with a specific focus.
The programme was split into three sessions. Session One summarised the background to the Collaboration and each WS in. Project Manager Millie Barrett started with an introduction to the Collaboration. Professor Martin Wiseman introduced the Professionals work stream and Dr Bernard Corfe introduced the Toolkit work stream, setting out the aims of each, and expectations of the workshop.
Session Two was chaired by Professor Theresa Wiseman and focused on the Clinicians' survey; Assistant Project Manager Fiona Davey spoke first about the background to the survey and the process of dissemination and analysis . A representative from each work stream then reported on the preliminary results and analysis. Dr Sorrel Burden reported on behalf of the Toolkit work stream and Dr Fehmidah Munir on behalf of the Professionals. Jacqui Gath provided a commentary from the PPI perspective. Participants were then divided into four mixed groups to discuss initial findings and next steps.
In the afternoon participants worked in their work stream groups. Karla Duarte from NOCRI joined the Professionals to explore complementarity between the work stream agenda and a NOCRI proposal to bring together a charity funding consortium focused on establishing a database of reliable advice; and Lucy Eldridge joined the Toolkit to ensure dietetic input. The Toolkit work stream focused on two points: development of the Toolkit for nutritional assessment; and next stages in analysis and writing up an article for publication on the survey. The Professionals work stream discussed: the catalogue of advice (including the respective roles of the work stream and the proposed charity consortium; and next steps for survey analysis relating to the specific questions around professional competency and development.
The survey results discussed at this meeting were preliminary, as the survey was still open to gain more responses from oncologists and surgeons. The survey closed on 31st October and the final stage of analysis is in progress. Please check back in the new year for the first report.
NOCRI MRC-T Cancer and Nutrition Workshop – Update
On the 5th September 2016 a workshop was held in London which brought together the UK's leading cancer charities supporting and funding health research to discuss how to join up cancer and nutrition research in the UK for the benefit of cancer patients. Cancer patients want guidance on nutrition and lifestyle factors that will favourably impact on their cancer development, progression and survivorship. They seek advice from health care professionals about what they can do to improve their clinical outcomes and care experience through making changes to their lifestyle, including diet and physical activity. Unfortunately, the limited availability of reliable evidence means that patients are either provided with inconsistent information or no information at all from their healthcare professional.
The workshop was attended by over 20 medical research charities that fund cancer research. These charities included Cancer Research UK, World Cancer Research Fund, Macmillan Cancer Support and Marie Curie. During the workshop, the charities, patients and carers identified an opportunity for the charities, together with the research community, healthcare professionals and other key stakeholders, to work collaboratively to develop a centralised database of "accredited" or "trustworthy" nutritional information for patients, carers, healthcare professionals and researchers.
Read the full report and view the presentation slides here:
Can We Work Together to Improve Nutrition Research for Cancer Patients? – Workshop Report
NOCRI MRC-T Cancer & Nutrition Workshop presentation slides
NOCRI and MRC-T Cancer and Nutrition Workshop – Can we work together to improve nutrition research for cancer patients?
On 5th September, NOCRI, MRC-T and the Cancer and Nutrition NIHR infrastructure collaboration are hosting a workshop to discuss how charities and the NIHR's research community can come together to improve nutrition research for cancer patients. This workshop will bring together the UK's leading charities that support and fund health research. It will provide charities with the opportunity to influence and define the research agenda, and work with the UK's leading researchers to prioritise, fund and deliver the prioritised research in order to generate the evidence-based nutrition and lifestyle information that cancer patients need.
NOCRI has written three blogs in the run up to the event, they can be found here:
Working together to improve nutrition research for cancer patients
How charities can achieve more for patients by working with the NIHR
Guest blog: Why is prioritising nutrition and lifestyle research so important for our cancer patients?
The British Association for Cancer Research (BACR) and Experimental Cancer Medicine Centres (ECMC) joint meeting in Bristol
From Monday 18th to Tuesday 19th July 2016, the BACR and ECMC are holding a joint meeting with speakers from the UK and abroad. Sessions include the following:
Dietary interventions for cancer prevention

Aspirin – what else do we need to know?

Overcoming barriers to prevention and the way ahead

Drug re-purposing – what next?

New approaches and recent advances
Further details may be found here: BACR and ECMC joint meeting poster
Nutrition and Cancer: What patients want to know
On Wednesday 18th May 2016 The Royal Marsden NHS Foundation Trust is holding a study day entitled Nutrition and Cancer: What patients want to know. This event is aimed at dietitians, nurses, doctors and other health care professionals working with cancer patients. The cost is £100 per delegate.
Aim: There is a wealth of information on diet and cancer – not all of it based on good scientific evidence. This study day will aim to look at popular areas of nutrition and cancer and untangle the myths from the evidence. It will focus on topics frequently raised by those with cancer.
To find out more click here.
Workshop event on 2 February 2016
On Tuesday 2 February 2016, the collaboration organised a workshop to kickstart the activities of Phase Two – the setting up and development of the five work streams identified in Phase One. The event was attended by around 40 people working in the fields of cancer and nutrition from across the UK, and included researchers, specialist oncology dietitians, patient representatives, public health experts, statisticians, nutritionists, epidemiologists, and others identified as important contributors to the collaboration's work.
You can download the Executive Summary and a full report of the day here: Final work shop report, including a list of participants. If you have any questions about the workshop, or wish to add your name to the growing list of people involved in this collaboration, send an email to: cancer_nutrition@nihr.ac.uk